Pssst – have you heard about this new, government-approved secret that will revolutionize your business processes? It's called eInvoicing – and it will change the game for business owners!
Ready to say goodbye to manual invoicing?
Many business owners are familiar with the maddening process of creating invoices by hand, only to have to redo them all over again.
So, how can you step back from the books?
ATO recommended! Make the switch to eInvoicing
eInvoicing is a revolutionary new way to send invoices between businesses.
This isn't your ordinary email link or PDF — instead, invoices are sent directly to the recipient's accounting software via a go-between network.
The benefits of eInvoicing
eInvoicing is a lightning-fast, secure, error-free way of getting invoices to their intended recipient.
eInvoicing helps business owners by:
eliminating painful manual entry — every invoice is sent directly to your accounting platform
removing the need to chase lost/incorrectly addressed invoices — details are validated using the recipient's ABN
allowing you to view the delivery status of invoices in real-time
reducing the risk of counterfeit/compromised invoices and other scams
allowing you to transact smoothly with eInvoicing-enabled businesses
Before we show you how to DIY – don't forget we can do it for you!
If your eyes start to glaze over while reading our guide on how to DIY, just give our team a call and we can get it set up for you. We'll make it as simple and easy to use as possible.
With EOFY coming up, now is the best time to start eInvoicing.
Here's how to make the switch…
eInvoicing with

Xero
Xero is a cloud-based software platform offering businesses a powerful, flexible accounting solution.
One of Xero's key features is eInvoicing!
Following the lead of the Australian and New Zealand governments, Xero uses Peppol as its foundation, winging your invoices on their way via the super-fast network. There's no need to register with Peppol — Xero is all you need.
If your customer doesn't use Peppol, don't worry! eInvoicing will work through Xero no matter what software is at the other end.
Once the invoice is received, it's approved automatically, cutting the need for manual data entry.
How to send an eInvoice with

Xero
Sending an eInvoice in Xero is simple. Here's how to get started!
Before you start
First, add your business's ABN/details in your organisation's settings. 
Find your customer's ABN and add it to their contact details in Xero, then confirm they're registered to receive eInvoices via the Peppol directory.
Don't worry — if your customer is unregistered, you'll be notified so you can send the invoice via PDF or email. 
Sending your invoice
Create an invoice in New Invoicing. If you're still in Classic Invoicing, click "Switch to New Invoicing" at the bottom of the page.
Add a contact and enter the invoice details.
Select Send as an eInvoice.
Check the invoice details are correct.
Click Approve & Send. 
Finally, confirm that you want to send the invoice as an eInvoice.
OPTIONAL: You can choose to include a PDF copy, or attach other files before sending.
WARNING: Once an eInvoice is successfully sent you won't be able to make changes or resend.
Finishing up
It might take a few seconds to validate the information.
The eInvoice is confirmed as sent in the history and notes section. It also displays in the contact's Activity tab. This might take a few minutes to update.
A handy

Xero

tip from MKG's experts
Did you know that Xero has a handy calculator built in?
You can use this function within quotes, invoices, purchase orders and bills. Type your equation into the price area, then press enter. See example below: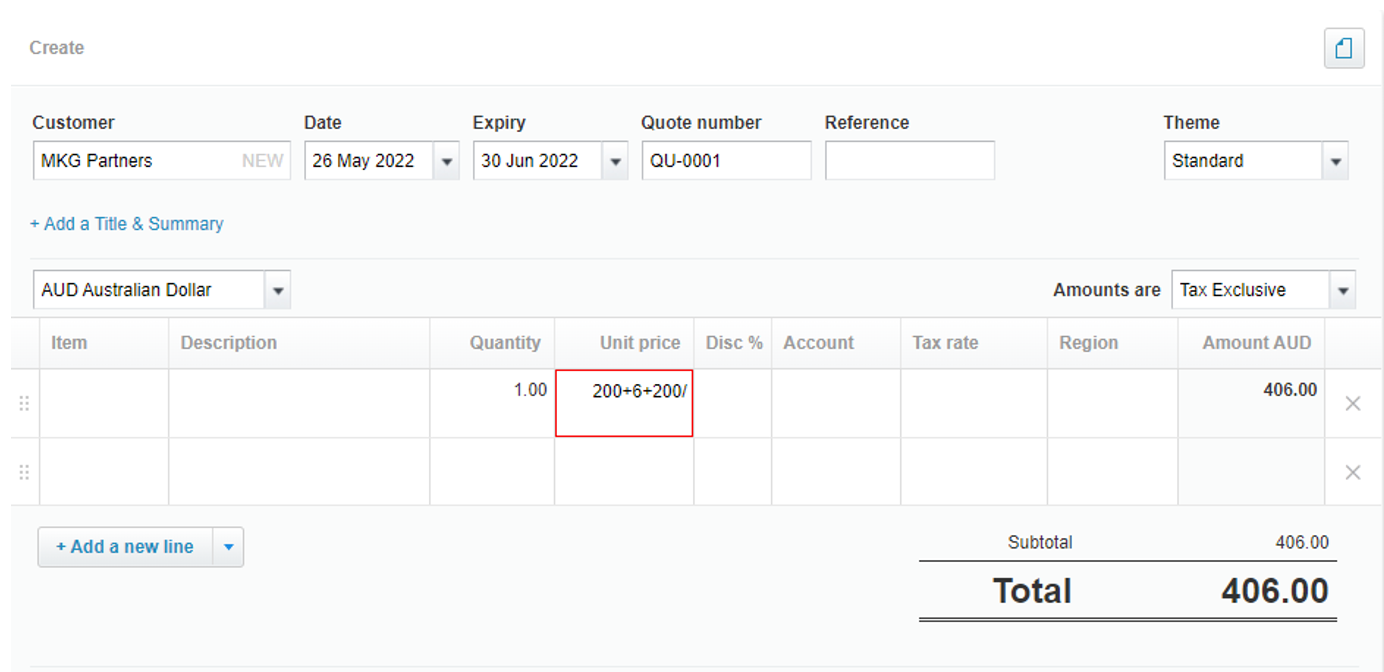 Balance your books with ease with the experts at MKG Partners
MKG Partners is a team of experienced, competent chartered accountants right here in Perth – and we are ready to help you level up your business!
For stress-free money management, our team are here to help you get the most out of Xero. They can help you get set up, guide you through best practice, and offer handy tips and tricks!
If you're ready to become a bookkeeping boss, get in touch with MKG online or give us a call on (08) 9354 6500. We're ready to help!